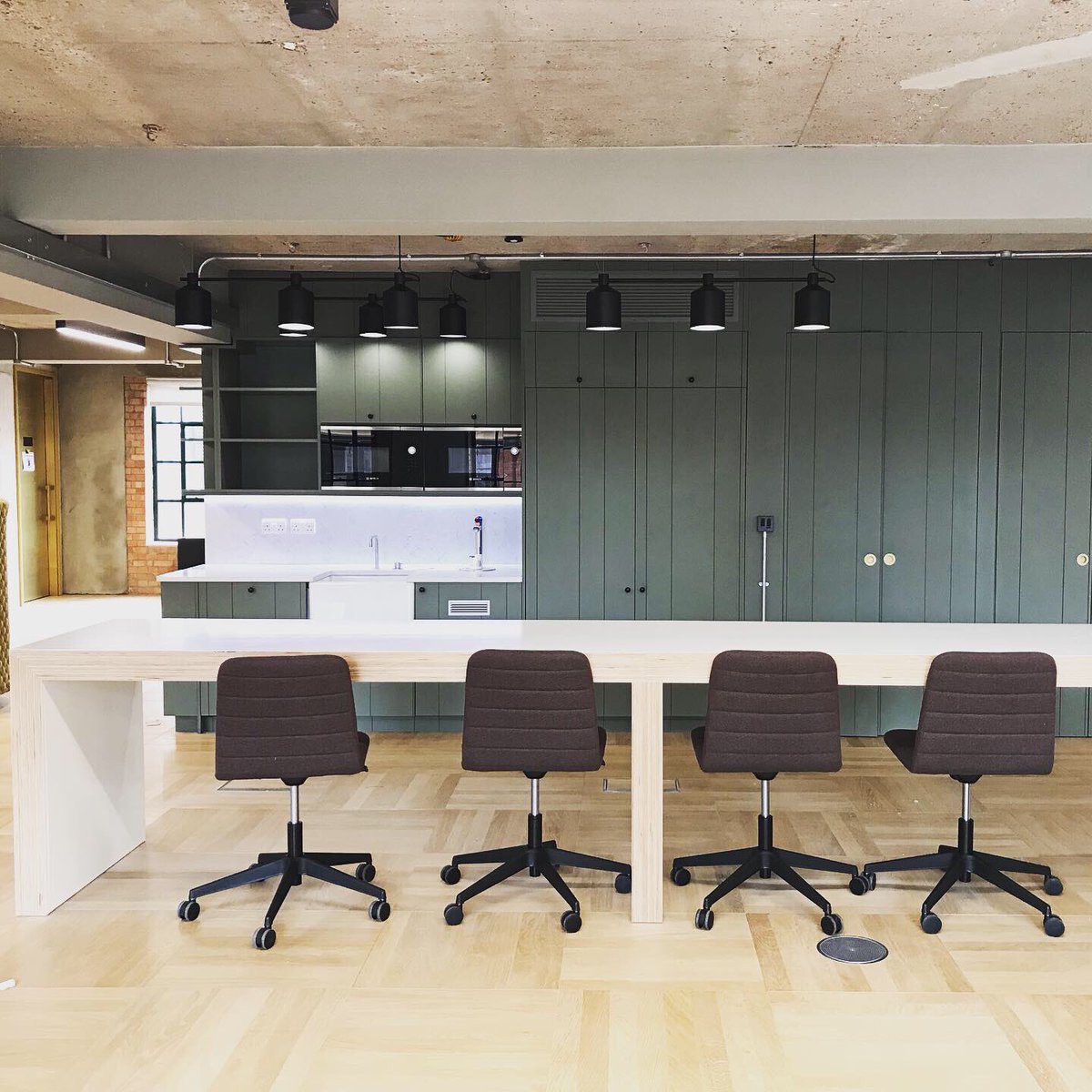 The re-birth of the office
One of the most popular subjects for current debate in the office / workspace world is about how the sector will respond post COVID-19. Being forced into a 'working from home' (WFH) culture has bought to the forefront the potential for this type of arrangement and for many will have been an eye opening moment into how this approach can work now and in the future, but does it really spell the much publicised death of the office as we know it? (spoiler alert – no it doesn't!)
Lessons in Lockdown
We all know the proverb 'necessity is the mother of all invention' and there are some clear pointers from the lockdown as to how our work environment can be improved to suit how we now have to work.
The first thing that many of us will have done is to setup our 'quiet place', the place where we can work without distraction, whether this is from children, partners or flatmates, space for thinking and working is a priority and there are countless photos of the 'home desk space' circulating on social media to remind us of this.
Technology has clearly played a prominent role in enabling this forced experiment to work. Without computers, phones, tablets and the connectivity of the internet WFH could not have worked at all. It is telling that the main technologies to have come to the forefront however are the various social video sharing software's (Zoom, Teams etc.) that lets us all join to talk (almost) face-to-face.
Being away from our colleagues and our workplaces for such a length of time has reminded us of how important they are as social environments (show me a company's social media timeline that doesn't include them all 'talking' online).
That social aspect cannot be underestimated in terms of its impact on the quality of the work we produce. It is important to share ideas and thoughts, to collaborate & consult with others to avoid work become 'blinkered' in its approach and to only reflect one point of view.
Being able to see, feel and touch (especially in the design world) is something that is especially difficult to reproduce in the virtual world. Even for us introverts of the world, seeing people face-to-face can instigate differing emotions that bring about new thoughts & ideas, that tangibility is somewhat lacking with the video image.
Making new connections with the current restrictions on movement has largely been lost, whichever way you look at it having a virtual coffee is just not the same as having a face-to-face one.
For most of us the number 1 thing we are not missing is commuting. The daily grind of bus, car, train & tube journeys to get from the home to the work place and back again has been replaced by a wander to another room. This has us all reflecting on how it came about that travelling, what are often great distances, to perform our work has come about, especially now that it would seem that it can (at least in part) be undertaken at home.
It is noticeable how cleaner the air is following restrictions on movement and the affect that this has had on our nature, with stories of the wild encroaching back into the built environment, such as these plucky goats:
https://www.bbc.co.uk/news/uk-wales-52103967
What a great opportunity this presents us with to do something that might change how we impact on our natural environment. Reducing commuting would be a massive way for us as individuals to impact on our own carbon footprint's.
WFH has remined us of how important a daily structure is. For those of us with experience of working from home, you will know that if you do not adhere to a normal working structure for the day ahead, then the dangers are it will creep into your personal life.
The ability to separate work from home is one of the most difficult aspects of WFH. One minute you are working, literally the next you are into your personal time, without the commute to separate it out. Simple things, such as dressing differently at the end of the day can help change your mental perspective.
Exercise has rarely seemed to be at the forefront of people's minds more than it is now. The government instruction to only go out for one form of exercise a day have appeared to inspire a nation of runners or cyclists to give it a go! This is great for our physical and mental well-being.
Why not work from home?
Working from home must now be something that will become a more prominent part of the office culture if it suits the type of work that a company undertakes.
It has been shown to work, and to work efficiently if managed properly, therefore some of the suspicion associated with it (often within management) can be lifted.
Tim Cameron-Kitchen of Exposure Ninja notes in his recent article for Property Week:
We have found that these sorts of initiatives actually need to be built into the company in a 'top-down' fashion because otherwise they don't happen.
https://www.propertyweek.com/insight/why-we-believe-remote-working-is-the-future/5107299.article
Adapt the workspace… don't kill it
So how can offices now reflect some of these simple lessons? As designers we have a responsibility to create spaces that respond to the brief we have created for our own working environments.
Ed Betts, Co-Head of West End office at Savills, notes in his article 'the end of offices…':
As a result, I expect to see the built environment, and therefore the schemes we design develop with our clients, evolve further to deliver what occupiers demand so as to be considered 'the best'.
https://www.linkedin.com/pulse/end-offices-ed-betts/?trackingId=sXiSU3zDE1e5p0zKecWO%2FQ%3D%3D
A self made manifesto for where we want to work
Spaces for thinking
Open plan working can often be distracting and stressful if it does not provide adequate privacy for work tasks, phone calls etc.
Just thinking of your workmates as you now do your children, partners or house mates is a good reminder that whilst you may love them, you can't work as well with them there. A sea of desks populated by headphone wearing employees is one that is not working very well.
We have surely reminded ourselves that providing private workspace is important and not having this can affect our quality of work and efficiency.
In the short term this is also likely to become a fundamental requirement to support the efforts of social distancing for lockdown restrictions to eventually be relaxed.
Spaces for meeting & talking
Physical spaces for discussion, whether they be meetings, informal chats, or spaces for presenting & debating are more prominent in our thoughts now than ever they were.
These are places that allow work-based tasks to take place that require consultation and collaboration. But do we need such large meeting rooms anymore?
Video calls have shown us that often people will only have a few points to add to the conversation, did they need to travel to the meeting to add that point? No, they could easily appear on video, even if it were from their desk on the other side of the wall, freeing them up to work during their 'meeting downtime'.
Smaller meeting rooms limiting attendees to the main 4 or 5 people should help to concentrate the effectiveness of decision making.
Social spaces
Space to separate from work and to socialise with colleagues to clear the mind for the next task ahead are fairly easy to come by when WFH, but not always in the office.
Somewhere you can relax, eat, drink, chat and play with colleagues (i.e. a true breakout space) should be available for all in the office. This space would remove 'work related' decoration / screens / presentations / reminders of your work life.
Spaces to relax & reflect
Somewhere to go to refresh yourself and to enhance your mental well-being, away from colleagues and clients.
This could be as simple as a walk outside, but in many cities (you may remember) the streets are never empty enough to relax. The spaces between, or on top of, buildings therefore become as important as those within them to create inviting landscapes that provide a reminder of our natural environment.
Where external space is limited, naturally lit internal spaces with good views would be ideal for this type of environment. This might however be the space usually reserved for the CEO… so, priorities may need to be assessed.
Spaces to support physical well-being
These can be both physical spaces where people do exercise classes (Think Joe Wicks, or maybe not…!) or spaces to store equipment such as cycles or running gear to allow exercise to be undertaken during work time.
As important are the spaces that support those activities, such as showers in adequate amounts with high levels of privacy and comfort and storage for gym clothes.
Flexible working
One of the worst parts of commuting is that we all do it at the same time to suit 'the 9 to 5′.
This now seems quite outdated, more suited to historic ways of working. If the workforce is trusted, then a combination of working from home or other places, combined with working within whatever forms the physical office, could affect this.
This has a potential knock on in regards office design, since not everybody requires a desk space to be permanently available for them, freeing up space for other activities.
Where next
Workspace design has taken great steps forwards in the last decade to address our modern ways of working, with some success and some failure.
Now we can take our lockdown lessons to simplify the discourse and create agile spaces that focus on quality over those derived from formulas, to suit how people work best and combine these with our new respect for our abilities to WFH.
One thing is certain, that as humans we are adaptable, we did not choose this situation, but we have all quickly adapted to it. I thought that Eleanor Jolliffe's article in BD Online about the history of pandemics was interesting in reflecting this, she notes that:
the refining nature of pandemic seems likely to better equip us to tackle problems – built and social- that have been "pushed into the long grass"
https://www.bdonline.co.uk/opinion/a-short-history-of-epidemics-and-their-impact-on-the-built-environment/5105528.article
We owe it to ourselves to create the best working environments when this is over, not to try and kill them off, ultimately the lesson we can take from this lockdown is to not take these things for granted.
James Greenaway, Director at Louis de Soissons Architects